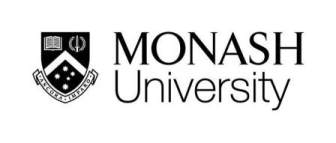 Research Ethics & Compliance
This website is used to submit applications to the following committees:
Monash University Institutional Biosafety Committee (MUIBC)

Monash University Human Research Ethics Committee (MUHREC)

Monash University Animal Ethics Committees - MARP, BSCI and MIPS
Log in using your Monash email and password

Refer to the Ethics Review Manager (ERM) User Guide for instructions.

If you have problems logging in, you may need to clear your cache - please find instructions for your browser on the following link: clear your cache
UNIVERSITY CLOSE DOWN
Due to the Christmas break and the limited availability of the Committees at this time of year, please be aware that there may be some delays to the typical response times. We apologise for any inconvenience. The University is closed from 21/12/18 to 1/1/19 inclusive.
DEADLINE TO OBTAIN GENE TECHNOLOGY APPROVAL FOR 2018
The 2018 deadline for submission of gene technology applications for Institutional Biosafety Committee (IBC) Approval is Monday 3 December 2018.
Applications received after this date will be reviewed and approved by the IBC when the University reopens in 2019.
All enquires should be directed to gene.technology@monash.edu or (03) 9902 4951
FORM UPDATES
If you can see a red warning banner at the top of the project homepage, the Chief Investigator (Project Owner) must click Update. The 'submit' and 'create sub-form' buttons will not appear if the form needs to be updated. Please refer to the Form Update Log for further details.